I finished listening to You've Been Warned by James Patterson and I loved it!
Then I started listening to Toxic Bachelors by Danielle Steel and I am enjoying it.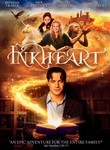 Tonights Netflix movie was Inkheart and I gave it a 4 star rating.
I stitched away on
HAED Fly Butterfly
and have almost 2 columns done. I will finish the column tomorrow. Then I don't know when I will get back to it.