I have been listening to You've Been warned by James Patterson and am almost done.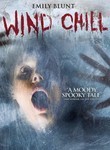 Tonight I watched Wind Chill from Netflix. I give it a 3 out of 5 stars.
I also stitched a lot today and have this much done on HAED Fly Butterfly.
Nothing else going on here. The kids chipped in cleaning. Been raining quite a bit and supposed to for 5 days.