I finished listening to Whipsers At Midnight by Karen Robards. Suspense and romance with some steamy sex. Pretty good.
Then I started listening to Break No Bones by Kathy Reichs. This is #9 in her series.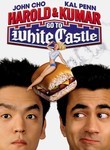 Tonight't movie was a cheesy but funny movie. Harold & Kumar Go To White Castle.
Today I put in about 600 stitches on HAED Aurora's Garden. I will continue to stitch on it tomorrow and Thursday.
We had rain and a severe thunderstorm tonight. The power went out for a few seconds.
I have an award that I will share with you later. Thanks to all who read and leave comments.