Today is also Scott's and my 21st wedding anniversary.
Today's audiobook is Beach Road by James Patterson. I am on disc 3 of 6.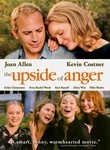 Tonight's Netflix movie was The Upside of Anger. I gave it a 3/5 stars.
This week I ended up stitching 3 pages of Night Before Christmas. My goal for the month was 1 page so I did really well. This is what I did today and...
This is what I have done so far.